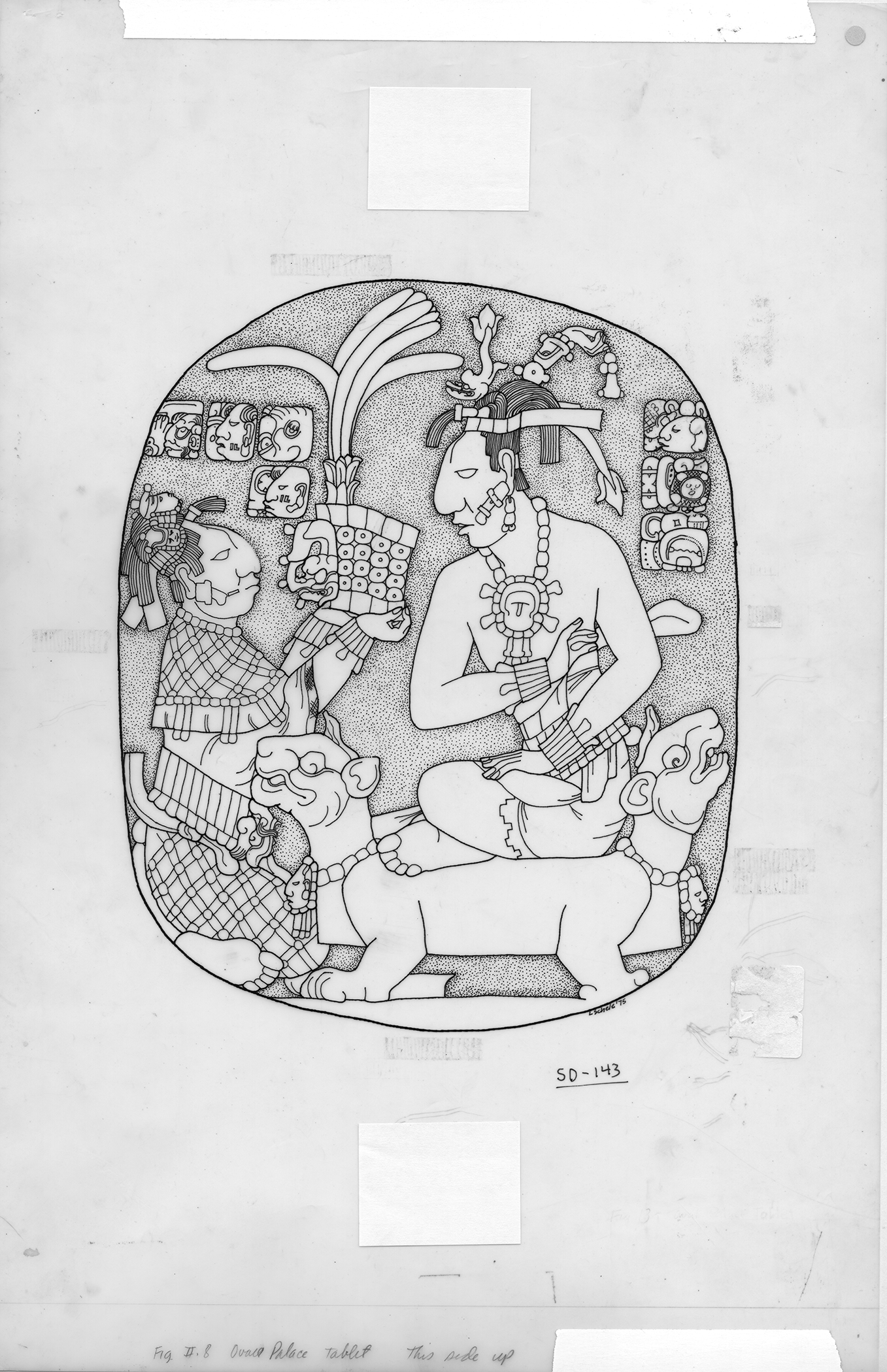 Drawing of Palenque Oval Palace Tablet
Artist
Date
1975
Medium
Black ink on mylar taped to posterboard support
Object Dimensions
19 x 12 1/2 in
Object Collection
Object Number
SD-143
Annotations
Fig. II.8; Oval Palace Table
Bibliography
Schele, Linda, and David A. Freidel. 1990. A Forest of Kings: The Untold Story of the Ancient Maya. New York: William Morrow and Company, Inc.: 227, Fig. 6.7
M.G. Robertson, M.S. Rosenblum Scandizzo and J.R. Scandizzo, "Physical Deformities in the Ruling Lineage of Palenque and the Dynastic Implications." In Art, Iconography & Dynastic History of Palenque, Part III, Proceedings of Segunda Mesa Redonda de Palenque 1976: 62, Fig. 3
L. Schele, "Accession Iconography of Chan-Bahlum in the Group of the Cross at Palenque." In Art, Iconography & Dynastic History of Palenque, Part III, Proceedings of Segunda Mesa Redonda de Palenque; 1976: 13, Fig. 13
L. Schele, "Geneaological Documentation on the Tri-figure Panels at Palenque." In Tercera Mesa Redonda de Palenque, Vol. IV, 1979: 50, Fig. 8
Schele, Linda, and David A. Freidel. 1990. A Forest of Kings: The Untold Story of the Ancient Maya. New York: William Morrow and Company, Inc.: 114, Fig. II.5
Rights and Image Use
This drawing collection is protected by copyright. The drawings contained in this archive are freely available for scholarly study and academic publication. Please contact LACMA's Rights and Reproductions Department at pseverance@lacma.org for written permission and publication-quality image assets.
Site Found
Chronological Period
Culture
Subject Type
Panel, Tablet
Subject Institution/ Collection
Palenque, Palace, House E
Description
Oval Palace Tablet from House E, Palace. Lady Sak K'uk, wearing a jade net skirt and cape, offers the Drum Major headdress decorated with a Jester God of rulership to her son K'inich Janaab Pakal. Janaab Pakal sits cross-legged on a double-headed jaguar bench. The captions name both figures.
Notes or Gallery Text
Located near middle of western side of House E, opposite central opening. Originally associated with the Palace (Del Rio) Throne (SD128); see Sculpture of Palenque 1985 (Vol. II):Fig. 92 for a reconstruction of entire program.