David Anderson and Marijke M. Stoll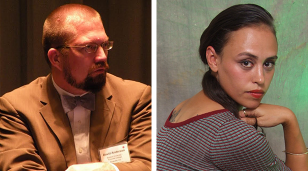 User Bio:
David Anderson is a Visiting Assistant Professor at Roanoke College, and received his Ph.D. from Tulane University in 2010. He has worked on various project in Yucatan since 1999. As a member of Proyecto Costa Maya in 2001 and 2001, he helped record many of the ballcourts found in Northwest Yucatan. His research has further explored the development of social complexity among the Preclassic Maya in the Northern Lowlands, particularly focusing on the regional center of Xtobo, as well as examined the influence that ancient Mesoamerica has on modern day Mexico.
Marijke Stoll is a PhD candidate at the University of Arizona. She has had the privilege of working in different areas of Oaxaca since 2009. Her doctoral dissertation focuses on investigation of the recently documented ballcourts in the understudied region of Nejapa in southeastern Oaxaca. Stoll's research interests include the Mesoamerican ballgames, community identies and social networks, the archaeology of landscapes, ritual and religion, and exploring Oaxaca's Prehispanic history. She plans to continue conducting research in Nejapa in order to highlight the region's important role in the political development of Oaxaca.
History
Member for

6 years 8 months