Matthew Looper and Yuriy Polyukhovych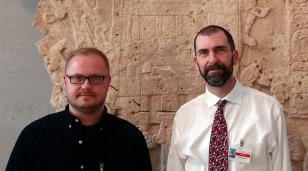 User Bio:
Matthew Looper is Professor of Art History at California State University, Chico. At Chico State, he teaches a number of courses in non-Western art history, with a focus on ancient Mesoamerica and also heads the Maya Hieroglyphic Database Project. His most recently published book is an edited volume on early dress in ancient Mesoamerica and Central America. He is currently working on a book on hunting dances in the Maya area as well as a revised edition of the New Catalog of Maya Hieroglyphs. 
Yuriy Polyukhovych received his Ph.D. in History from the Taras Shevchenko National University of Kyiv in 2012. His dissertation was devoted to the analysis of Palenque and its region's inscriptions including new, undocumented or poorly-studied texts. He is currently working as postdoctoral researcher in the Maya Hieroglyphic Database Project, Department of Art and Art History, University of California, Chico. Polyukhovych's research interests include Classic Maya art, decipherment and the use of hieroglyphic inscriptions in understanding Classic Maya political history, and historical linguistics.
History
Member for

5 years 4 months